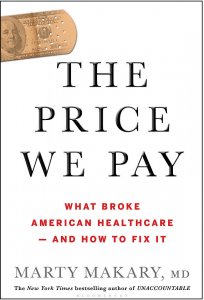 Martin "Marty" Makary is an English-American surgeon, New York Times bestselling author, and Johns Hopkins health policy expert. He has written for The Wall Street Journal, USA Today, TIME, Newsweek, and CNN, and appears on NBC and Fox News. He is the author of The Price We Pay, a book about how business leaders and families can lower their health care costs and the grass-roots movement to restore medicine to its mission of serving patients.
Dr. Makary practices surgical oncology and gastrointestinal surgery at the Johns Hopkins Hospital and teaches public health policy at the Johns Hopkins Bloomberg School of Public Health. He works in health care innovation, quality measurement science, frail and vulnerable populations, and public health disparities. He served in leadership roles at the United Nations World Health Organization for the Safe Surgery Saves Livesinitiative. Makary was named one of the most influential people in healthcare by Health Magazine. In 2018, Makary was elected to the National Academy of Medicine.
Makary is an advocate for disruptive innovation in medicine and physician-led initiatives such as The Surgical Checklist, which he developed at Johns Hopkins, and which was later popularized in Atul Gawande's best-selling book, Checklist Manifesto. In 2016, Makary and his colleagues exposed loopholes in the Orphan Drug Act accounting for higher drug pricing. His article "The Orphan Drug Act: Restoring the Mission to Rare Diseases", covered by Kaiser Heath News, led Senator Grassley's office to announce an investigation into the problem. Makary has advocated for the need for more transparency in healthcare and better-quality metrics for hospitals and physicians. The American College of Surgeons recommended Makary for the position of Surgeon General of the United States.
Dr. Makary and David Silverstein have worked closely together on public policy initiatives aimed at bringing greater transparency to healthcare pricing and quality. Through Brokenhealthcare.org, they also teamed up to help patients dispute unfair medical bills, forcing hospitals to drop more than one million dollars' worth of law suits in 2019.