Real Healthcare Price Transparency is Coming to Colorado
The approach is a model for all 50 states.
After a long and arduous battle and years of political wrangling, Americans are finally about to get the transparency into healthcare prices that they deserve.
This week, a courageous Colorado Legislature passed a simple bill that allows the people of Colorado to enforce their rights to know the prices hospitals charge, and that they've negotiated with insurance companies.
On January 1st, 2021, the U.S. Government published a set of rules called for by the Affordable Care Act. These rules were the result of many people's efforts over many years, and they call for many price disclosures. Unfortunately, coming out of a highly bureaucratic process that is entangled with one of the most corrupt industries in the world, the rules have been poorly implemented by some, and completely ignored by others. That's now going to change.
The Colorado Law is simple. Without the use of any government resources, it says that if a hospital IS NOT in compliance with already existing Federal Price Transparency law, that hospital may not avail itself of state resources to collect on its bills. That means the hospital cannot sue a patient in state court and cannot refer a bill to a state licensed collection agency. The hospital also cannot cause a negative mark to be placed on a credit report.
Compliance with Federal law is simple. Hospitals have all of the information they need at their fingertips. If they didn't, then they couldn't produce bills every day. While they've whined about the "onerous new regulations," the U.S. Government has done its own study and puts the cost of compliance at $12,000 per hospital.
I wrote the Colorado law at the invitation of Representative Patrick Neville of Colorado. Mr. Neville, a Colorado Republican, has supported healthcare price transparency efforts since we were first introduced in 2018. He recently said to me: "I've never put so much personal effort into a bill before." We should all be grateful that he did. Now in his last term as a Colorado representative, Mr. Neville is leaving Coloradoans and Americans with a great gift. His departure from the legislature will be a loss for all of us.
The Colorado legislation was also sponsored by the Democratic Majority Leaders is both chambers of the Colorado General Assembly (Rep. Daneya Esgar and Senator Dominick Moreno), and by Republican Senator and Assistant Majority Leader, John Cooke. The bill received unanimous votes in both House and Senate Committee Hearings and lost only one vote across both Chambers (63 -1 in the House, 35 – 0 in the Senate). The bill's sponsors were resolute and put the people of Colorado first, and while that may seem like something we should all expect, in practice, it is very difficult when you have the full force of the hospital industry coming for you.
I would like to thank all of the legislators who took a stand and rejected many of the nonsensical, and often dishonest and deceitful opposition tactics to stand together and send a strong bipartisan message that the days of hiding prices from the American public are about to come to an end.
Getting to real price transparency is about more than just shopping around for prices. It's about changing the fundamental economics of healthcare, a system that by most accounts is wasting up to two trillion dollars a year. And it couldn't come at a better time.
As the U.S. economy slows, due to years of ill-conceived economic stimulus, massive government debt, supply chains that are breaking down, and a shift away from globalism, the very best place to free up money (so we don't have to print it) is to drive efficiency in our own economy. If we can create a competitive healthcare market and drive out the fraud, waste and abuse over the next decade, the money freed up from our healthcare system will wind up back in the pockets of middle-class Americans. That is the most natural and effective way for us to keep the U.S. economy on solid footing without massive government interventions.
I wrote Colorado House Bill 22-1285 to be a model for 50 states (and Washington and Puerto Rico and anywhere else that needs it). Between now and when the new law takes effect in mid-August, we'll put out a plan to have all Colorado hospitals in compliance with Federal Price Transparency Rules within 30-days. We want to demonstrate how effective Colorado's approach will be, so that by early 2023, every other state is ready to follow suit.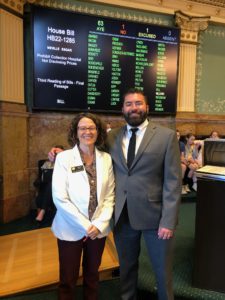 Rep. Neville and Majority Leader Esgar following the House vote.