The issue of healthcare price transparency made headlines last week thanks to two important class-action lawsuits against two different drugstore chains in different states. Patients are finally making their cases against hidden negotiated pricing. The issue in these cases is the variable, unpublished prices of prescription drugs.
According to the class-action lawsuits, CVS and Walgreens overcharged consumers who bought certain generic drugs with their insurance. The pharmacy chains then kicked some of the proceeds back to third-party pharmacy benefit managers (PBMs). Those consumers would have been better off buying the drugs without using their insurance, the suits argue. The suits were filed in Rhode Island and Illinois, the states home to CVS and Walgreens headquarters.
The first lawsuit accuses CVS Health Corporation of overbilling customers who used insurance to pay for certain generic drugs. It alleges the chain also failed to disclose that medicines' cash price was cheaper than amount billed for those using insurance. The named plaintiff in the CVS suit is Megan Schultz, who through her insurance paid $165 for a generic drug at a CVS pharmacy. Had she paid in cash, according to the lawsuit, the drug would've cost $92.
In the second suit, named plaintiff David Grabstald alleges that he was charged an average of $17.74 when he used his insurance to buy a prescription drug at Walgreens on several occasions this year and last year, but that he would have only been charged $10 for that same drug if he had not used his insurance. Walgreens did not tell him it would be cheaper to pay for the drug outright, he alleges.
Collusion between drugstore chains and benefits managers is a big problem. Additionally, prescription drug prices are not regulated in any way. Because of this, the cost of a prescription may differ by more than $100 between pharmacies across the street from each other!
If you've been keeping up with our efforts at BrokenHealthcare.org, you know that we have been fighting for transparent healthcare pricing across the board. You also know that we try to provide you with as much information as possible to make you better healthcare consumers.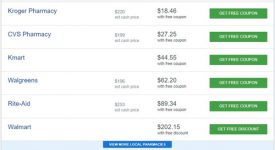 One valuable tool you should be using if you take prescription drugs is GoodRX.com. GoodRx gathers current prices and discounts to help you find the lowest cost pharmacy for your prescriptions. You can search by drug name and zip code to find the lowest prices. The sample search for the statin drug Crestor shows a price range from $14.45 for 30 pills at Safeway to $202.15 at Walmart. GoodRx also offers free coupons on some drugs and will show you where cash prices can be lower than your insurance co-pay.
I am happy see patients fighting in court for prescription drug price transparency. But this battle needs to be fought in all areas of healthcare throughout America. I hope you will join us in our effort to force transparency and change.
Image credits: GoodRx.com