In my previous post, I suggested two tools to help you evaluate the service and safety of your local hospitals based on criteria like infection rates, surgical errors, patient injuries, ER wait times, and patient satisfaction. Now I'd like to shine a light on medical pricing tools.
Many states (and some insurance companies) offer healthcare price estimation or comparison tools. Sadly, most of these are useless at best and deceptive at worst. There are a few national tools that can give you a general idea of procedure prices, and a way to compare prices charged by doctors and hospitals in your area. All the tools exist in in the name of fair and transparent pricing, but all are limited in their ability to deliver.
It's important to note that these tools will not help you fight against the inflated and hidden costs that often appear on your bills. For that, I hope you will join us in our efforts to fight for real price transparency by denying payment of hospital bills. Until we win that battle, these are the sites our testers found most useful.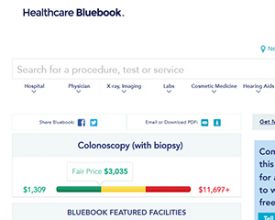 One of the advantages of the Healthcare Bluebook is that it has been collecting data for a long time. The site allows you to search for procedures by zip code and offers a scale of available prices, including a Fair Price range. The Fair Price is calculated from actual amounts health plans have paid on claims. Some services show bundled pricing, which means there are multiple parts to the Fair Price. The Healthcare Bluebook offers a list of facilities that offer Fair Price Assurances, but there appears to be very few providers in the fair price club, even in major markets.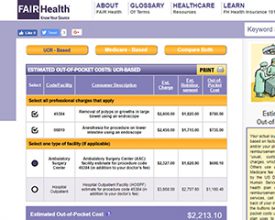 FAIR Health uses a huge database of billed medical and dental services to power a free website that offers some insight about medical and dental expenditures. The site provides an estimate, based on your zip code, of not only
what the overall charges will be, but also what your out-of-pocket costs might be, if you are insured (not insurer-specific). FAIR Health allows you to adjust the percentage your insurer reimburses, which is a very helpful feature. The site also lets you specify what type of site would host your procedure so you can calculate the facility fee.
As FAIR Health is based on coded bills, it provides you with codes for all your searched procedures and facilities. This is helpful when reviewing your bill after the procedure. However, FAIR Health is most effective if you think ahead to a variety of outcomes when pricing your service or procedure. For example, a colonoscopy with anesthesia at an ambulatory surgical center could cost a New Yorker $1109.40 out of pocket. But if polyps are found during the colonoscopy and removed, out of pocket is estimated at $2213.10.
This eye-opening site was created by the newspaper in 2013. Unlike the two sites mentioned above, this tool allows you to broadly vet prices at individual local hospitals. Using the New York Times Pricing Calculator, you can get a handle on a hospitals overall pricing philosophy, as well as understand its pricing for individual procedures based on the amounts the hospital bills Medicare. Using the map, or searching by zip code, you can locate your hospital and determine how much above or below the national average the hospital bills Medicare for certain procedures. The site also provides information about how much more, or less, the hospital gets reimbursed by Medicare, relative to the national average. Combine this tool with the Leap Frog safety tools we profiled last week, and you'll find that some of the least safe hospitals have the highest Medicare billing rates!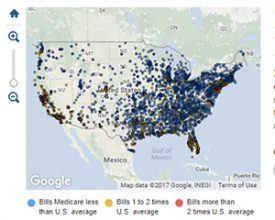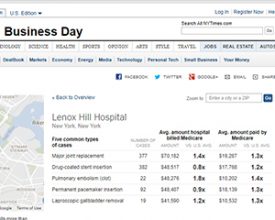 At BrokenHealthcare.org, we are trying to force price transparency by disputing and denying payment for confusing and error-filled medical bills you have already incurred. Please join our fight and share this information with friends. There is power in numbers.