Anthem Inc., the largest for-profit managed healthcare company in the Blue Cross and Blue Shield Association, has struck again. The insurer has announced it will no longer pay for MRIs and CT scans performed on an outpatient basis in hospitals across the country. The new policy means patients will have to go to a free-standing imaging center instead of a hospital for many imaging services. Anthem says this policy will "keep premiums low" and save patients (especially those in high deductible plans) "hundreds of dollars."
At BrokenHealthcare.org, we believe this policy may cause as many problems as it solves. More importantly, it is another symptom of our ailing healthcare system, and one more reason why the fight for transparent pricing is more important than ever.
First of all, insurance premiums are not low. So the idea that this policy will keep premiums low is a bit misleading. Second, this policy will save Anthem far more than it will save Anthem's members. What the policy does do is shine a light on the erratic and confusing nature of hospital pricing. Instead of addressing pricing issues with stringent, one-size-fits-all policy changes, why not join the battle for price transparency and let healthcare consumers fight high-prices with informed decisions?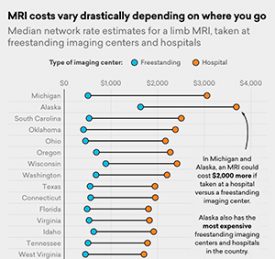 See the full chart here.
In the case of MRIs, those done in hospitals always cost more—in some cases, a lot more—than those done in free-standing radiology centers. The chart above from Amino shows that depending on the state, the price difference can range from $200 to $2,000. In that respect, Anthem's new policy makes sense. But, it also could be troublesome.
Anthem's new imaging policy will likely be a big burden for doctors who practice within hospital systems, who will be forced to send their patients out of the system for MRIs and CT scans. Since there is currently no universal electronic medical record system, patients will have to take responsibility for making sure their scans get to their physicians. Additionally, critics say the policy will force doctors to spend less time caring for patients and more time fighting for reimbursement. Finally, there are many who believe hospitals will compensate for this attack on their profits by finding other ways to raise prices. While well-intended, Anthem's efforts could push us further into our current conundrum: higher prices for lower quality of care.
Anthem's policy went into effect in Indiana, Kentucky, Missouri, and Wisconsin on July 1, and will start in Colorado, Georgia, Nevada, New York, and Ohio this week. The policy will be rolled out to all but one of the 14 states where Anthem does business by March 2018. Apparently, New Hampshire is the exception. Anthem said the policy also doesn't affect patients enrolled in government programs, such as Medicare and Medicaid, or those with self-funded employer coverage.
This is Anthem's second new policy targeting sky-high hospital prices. And analysts expect that the other major players are watching closely and could follow suit. Earlier this year, Anthem announced it will no longer pay for emergency room visits in non-emergency situations. That policy, moving patients away from hospitals and towards physicians and care centers, is now effective in at least three states.
But at BrokenHealthcare.org, we see a bigger and better solution. Truly transparent pricing information could end the series of situational skirmishes over profit margins and lead us towards a healthier healthcare system.